Twitpic may not have avoided an untimely demise, but you won't have to worry about some of your older Twitter photos disappearing into the void. The defunct hosting company has reached a last-minute deal that will have Twitter take over both the...
---
If you're bent on using Apple Pay or Google Wallet for your shopping, you may have to be finicky about your choice of drug stores. Both CVS and Rite Aid have shut off their support for NFC-based payments just days after Apple Pay went live. Try to...
---
Trying to keep a journal has always been difficult for me. Before the age of smartphones, I tried to rely on text files or a physical notepad. If I wasn't forgetting to write down my thoughts, I was losing the file or my handwriting was so bad it...
---
Even the most well respected filmmakers have been known to bend the truth a bit when it comes to depicting science on the silver screen, throwing accuracy to the wind in favor of trivialities like "plot" and "drama." We kid, of course. But how does...
---
When next Tuesday's 2.0 update hits for the PlayStation 4, Sony will finally turn one of the most ambitious promises it made when the console was first announced a reality. We're talking about Share Play, of course. We know: the ability to virtually...
---
Like it or loathe it, you have to admit that the design of the Power Mac G5 was a very clever way of getting around the system's legendary thermal issues. It was no surprise that the ol' cheesegrater was kept around for the Mac Pro, at least until...
---
A cheap robotic hand developed by a company called Grabit offers something most of the other mechanical limbs we've seen before don't: the ability to pick up objects using electrostatic attraction. Even if you're not familiar with term, you've likely...
---
Since its creation, the Amazon Appstore stood apart, banned from being offered in the official store for Android apps, Google Play, until now... sort of. When Amazon recently updated its main Android app, it got a new "Apps & Games" department that...
---
Concerned there's not enough to watch on Netflix, or that the big studios and networks might hold stuff back for their own streaming services? Rest easy, the video streamer has plans for a slew of exclusive content over the next few years, and this...
---
It's Friday, ya'll. But before you checkout for the weekend, check out all our news highlights from the last 24 hours, including our hands-on with the Nexus 9, a new high-altitude jump record, the best gaming mice you can buy right now, and more. ...
---
Google's adding another member to its household family that includes Nest and Dropcam, and this time its home automation outfit Revolv. The firm's website lists it as "a Nest company" now, and goes on to to assure existing customers that they're...
---
Well, we guess congratulations are in order. According to Re/code, Sundar Pichai, the senior vice president at Google who used to just be in charge of the Chrome, Android, and web apps teams now basically has control of almost every other Google...
---
The developers at Harmonix Music Systems know a thing or two about music. And we'd hope so, it is in the company name, after all. The studio's latest Kinect game, Fantasia: Music Evolved, is quite a bit different than anything they've done...
---
The jury's still out on Google's new mobile approach to email, but that hasn't stopped people from going a little batty over getting invited to use it (see also: Gmail, Google Wave). In case you were feeling a little weird about begging Google for an...
---
With the exception of maybe old Andy Taylor, most police officers in the United States carry a firearm as part of their standard equipment. Wouldn't it be nice to know when those sidearms are drawn, and why? A Silicon Valley startup called Yardarm...
---
Apple's iPad Air 2 and Mini 3 launched with a very, very pleasant surprise: If you splurged on an LTE model, you could choose whether you wanted to jump on Sprint's, T-Mobile's or AT&T's networks (along with EE's if you're in the UK), with nary a SIM...
---
The Nexus 9 wasn't designed to be an iPad killer; it was designed to inspire Google's Android partners to create one instead. Though you'd be forgiven for thinking otherwise: It was announced one day before the iPad Air 2 and mini 3, comes with a...
---
Move over Felix Baumgartner -- just two years after the daredevil's record setting 128,000 foot Red Bull Stratos space jump, Google VP Alan Eustace has topped it. The New York Times reports Eustace rode a balloon 135,908 feet above New Mexico and...
---
Nest's thermostat and smoke detector now works with more third-party home automation products, the first fruits of the developer program that the Google-owned company launched in June. First in the list is something you're likely familiar with:...
---
Our Canadian neighbors have already been given a taste of Rogers' extremely data-friendly LTE, but now the carrier is officially rolling out its LTE-Advanced network across 12 different cities. In fact, it's the first North Amercian carrier to launch...
---
Deezer's streaming service may not have a reputation in the US to match others like Spotify, Beats and Rdio, but the "first truly worldwide digital music streaming service" is expanding by acquring the podcast app Stitcher. The company tells...
---
We're just two weeks away from our free Engadget Expand event, taking place at New York City's Javits Center on November 7th and 8th and there's still so much to tell you about. If you can't join us in person, don't worry -- we'll keep you updated...
---
The developers at Harmonix aren't afraid to hit the reset button if something isn't working correctly. Chances are, strumming a plastic Stratocaster changed quite a bit before you ever even started playing "Creep" by Radiohead in Rock Band. Same goes...
---
Nintendo was dropping Smash Brothers info-bombs left and right last night, but the company also felt compelled to dive a little deeper into how the Wii U version of the game will play with those curious little Amiibos. You know, the Nintendo...
---
Her Majesty the Queen took to Twitter for the first time today, but not to complain about the amount of ice in her post-brunch frappé. Instead, Liz was announcing the opening of a new permanent gallery at London's Science Museum that takes visitors...
---
Gizmodo The Gadgets Weblog
The saga of Twitpic vs Twitter, probably the most ridiculously petty argument in the entire social media industry, is finally coming to a semi-satisfactory end: Twitpic is definitely shutting down, but its archives will live on in read-only mode, owned by Twitter.
---
By this stage, Google Glass has been around in its kinda-beta kinda-on-sale format for a solid 18 months, and the internet is awash with more reviews than you can probably tolerate. But it's still interesting to see wizard filmmaker Casey Neistat's opinion on everyone's favorite face computer, especially when the entire thing is filmed with Glass itself.
---
Space X's Dragon capsule has successfully splashed down in the Pacific Ocean after a month-long turnaround on the International Space Station, having delivered a 3-D printer to outer space. It's the fourth of 12 resupply missions contracted to SpaceX, and having this one go off without a hitch is a good stepping stone toward manned flight , for a company that's had a few, ahem , reliability problems . [Reuters]
---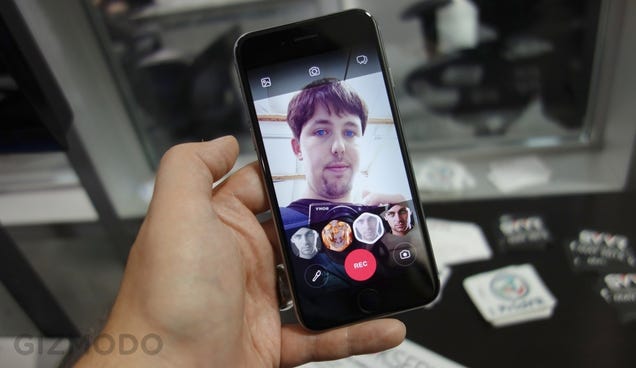 My eyes are brown. My face is round. But I don't have to show you that. Looksery can give me beautiful baby blues and a chiseled jaw with just a few taps.
---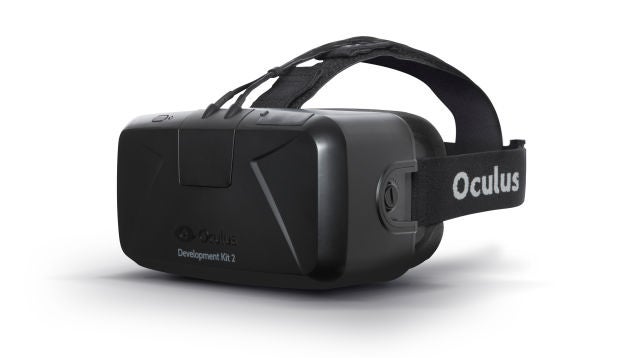 VR is coming. At this stage, with everything from mind-blowing hi-def Oculus Rift kits to the cheap and cheerful Google Cardboard in existence, that much is pretty clear. But although the tech is there, the applications — beyond immersive gaming — are only just starting to trickle out.
---
According to MacRumors, CVS and Rite Aid are both nuking unofficial support for Apple Pay, by turning off their NFC payments system altogether. According to an internal memo, the sour grapes is because Rite Aid is working on its own mobile wallet solution, which will be available next year and almost certainly not as successful as Apple Pay. [MacRumors]
---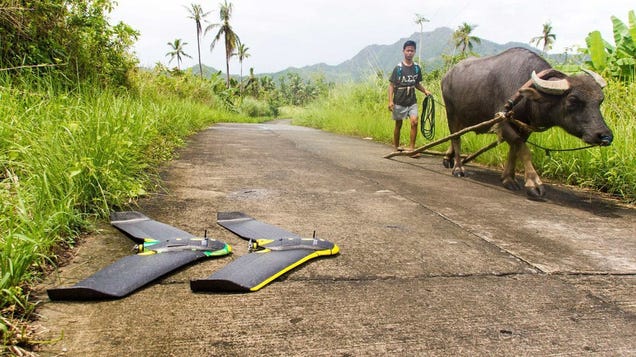 America's got pretty good at using drones to hunt and kill big tangible things, but Hellfire missiles and Reapers aren't all that good at tracking little insects. But that hasn't stopped researchers from using (smaller, less deadly) drones to help fight the spread of infectious disease.
---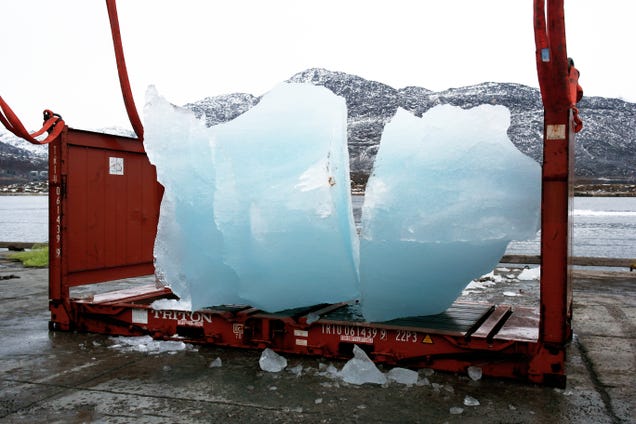 You've seen the pictures. The time lapses of glaciers shrinking into patchworks of white, the videos of ice crumbling into the ocean. But the Icelandic artist Olafur Eliasson wants you to really see how quickly the ice is melting—and to do so, he and a Greenlandic geologist fished 112 tons of ice out of a Greenland fjord and shipped it to Copenhagen.
---
PSA: Camera+, which has long been one of our favorite camera apps for iOS , is temporarily free, rather than $2.99. To get the deal, you have to find an ad in the Apple Store iOS app, and then redeem it in the App Store — Redmond Pie's got the full details here. It's worth a shot — even if you decide you hate it, you can't argue with the price. [Redmond Pie]
---
We've seen some slightly crazy stuff attempted on unicycles before, but attempting to race a pickup down a mountainside on one wheel definitely has to rank up there in the pantheon of 'funniest prospective things to write on the insurance claim form'.
---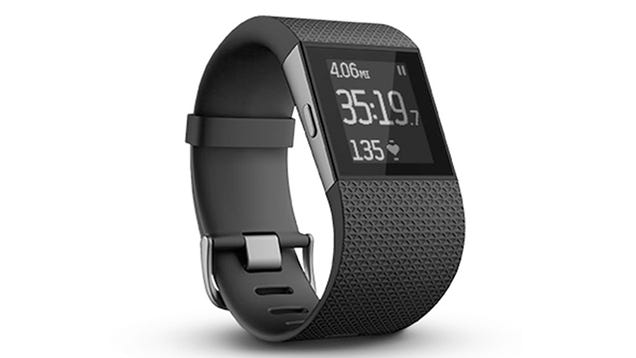 Fitbit's Surge smartwatch has already been leaked what feels like a million times , but we now know pretty much all the remaining details, thanks to a pre-order page on Brookstone that hangs every last detail out to dry.
---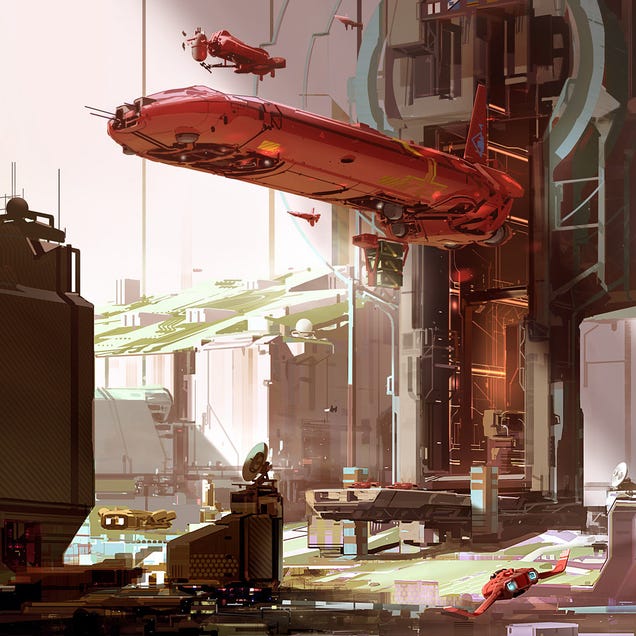 Nicolas Bouvier aka Sparth—whose latest work is being art director for Halo 5—is getting better all the time. His private work is so optimistic and far away from the usually gritty and dark vision of other authors. And I love the fresh use of geometry in some of his most recent art.
---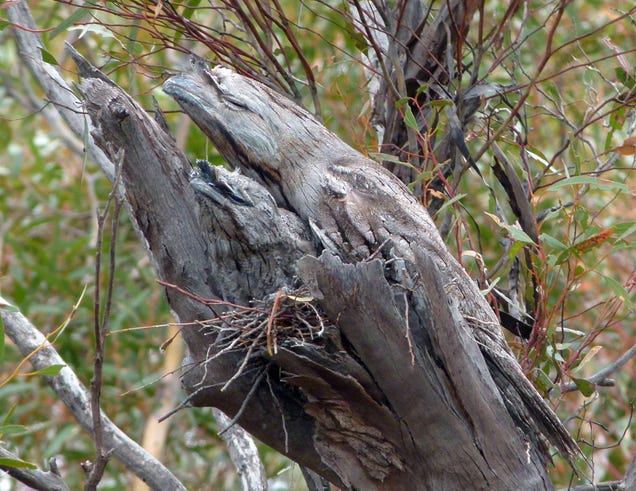 Can you see it? Hiding in plain sight there are two of the most stealthy creatures in the animal kingdom, almost impossible to detect. Thanks to the wonders of natural selection, these and other animals can avoid most predators and perpetuate their species. See if you can spot them all:
---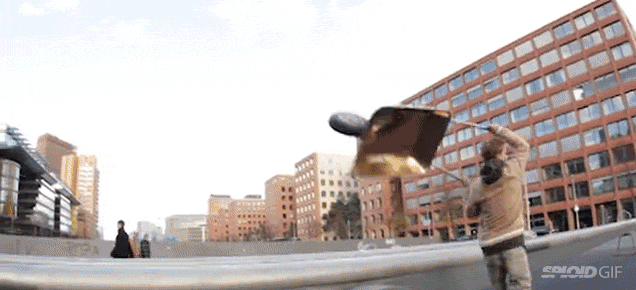 Here's the progression of my thoughts when I first saw this video of Hä Wie using a golden wheel barrow to do skateboard tricks on the street. I thought it was so dumb. So, so stupid. And then I started giggling. And then I started laughing. And then I started wondering, wait, is this any less ridiculous than skateboarding?
---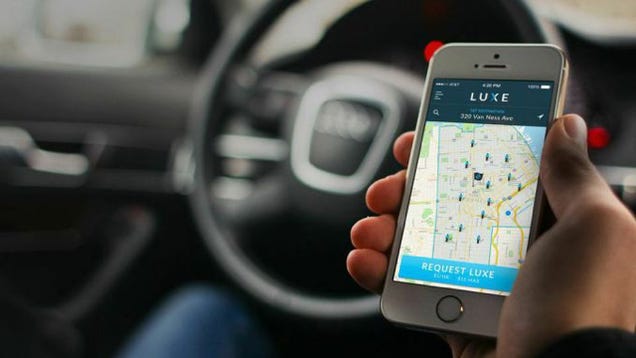 Parking in most major cities – and San Francisco, in particular – sucks. More often then not, when the wife and I head into the city for a night out, we park somewhere cheap and Uber our way around. It's both idiotic and costly, but it beats circling for a space for 45 minutes and then walking 10 blocks. That's why Luxe sounds so damn enticing.
---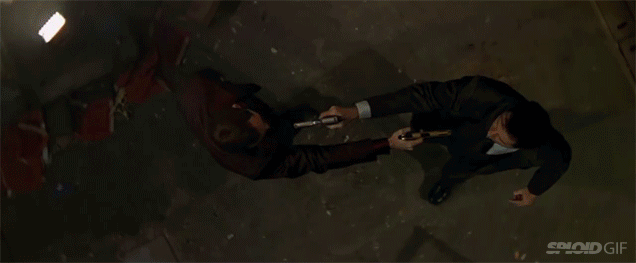 Oh, nothing to see here. Oh wait. Just kidding. There is everything to see here. This two minute clip of action scenes from MovieClips Trailers is so badass that I've watched it multiple times now. I can't get enough. In fact, it has me hankering for an action movie so bad. Good thing John Wick is out in theaters, right?
---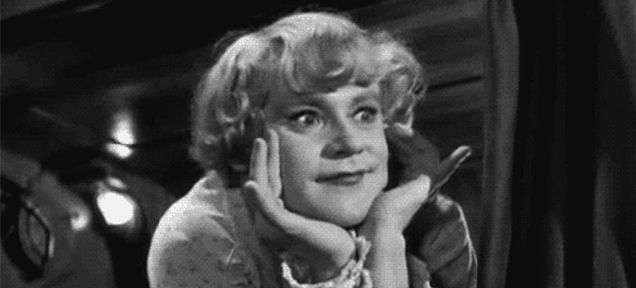 There are tons of hilarious performances in the history of modern movies, but Jack Lemmon's turn in Some Like It Hot is absolutely, positively, one of the funniest—if not the funniest—of all time.
---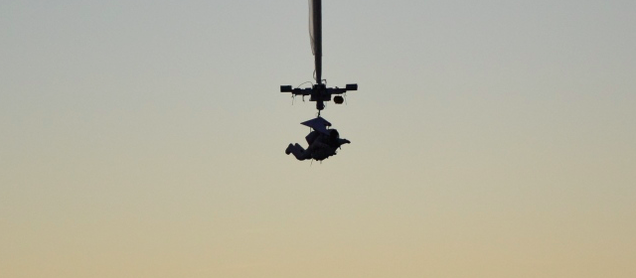 Move aside, Felix Baumgartner. Alan Eustace, a senior vice president at Google, fell from the top of the stratosphere this morning, plummeting nearly 26 vertical miles in the span of about 15 minutes. In doing so, he has broken Baumgartner's 2012 record for world's highest-altitude free fall – and by a pretty sizable margin.
---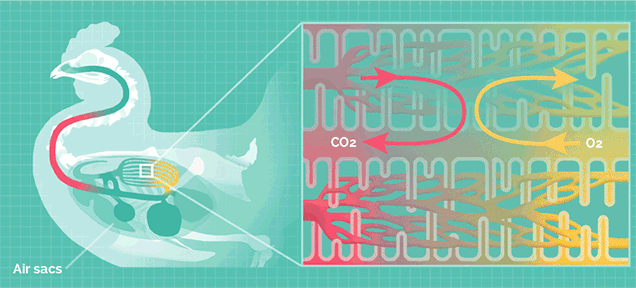 Science illustrator and animator Eleanor Lutz—the same who brought us this cool graphic of how animals fly —has created this cool animated illustration showing the differences between animal breathing: Human vs birds vs insects. Even if you paid attention at biology class, it's interesting to watch.
---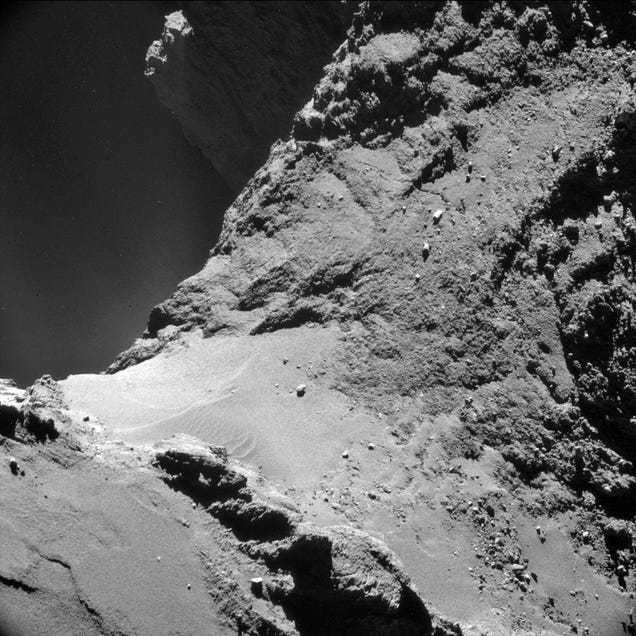 The spacecraft Rosetta keeps surprising everyone with amazing new photos taken in pursuit of comet 67P/Churyumov-Gerasimenko, taken just 7.4 kilometers from its surface. These images reveal dunes just like those you can find on Earth. Scientists have also found that it really stinks.
---
Nico's version of "These Days" is the perfect fall song. It's the kind of music best listened to in solitude, sipping tea and contemplating failure and the nagging sense of unspecific loss that accompanies the passage of time and the change to a chillier season.
---

You know what? It's Friday! Thank goodness! Let's all make like Diddy and Bjork and talk about anything and everything in this here Kinja, right here, right now.
---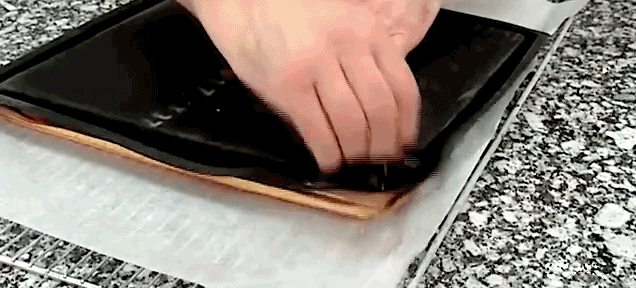 If you are into cooking you probably know about silicone molds. If you are not, it doesn't matter. Just look at how they peel from the cake—and then how the cake gets build into various patisserie wonders. It's such a satisfying process.
---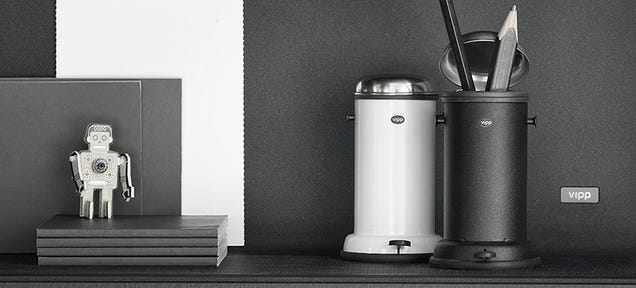 Despite its diminutive stance, this miniature garbage can from Vipp is fully functional. Touch the tiny pedal where you'd usually stomp your foot and the lid temporarily pops open letting you dispose of tiny bits of trash, or store pens, pencils, paper clips, and other bits of stuff floating around your desk.
---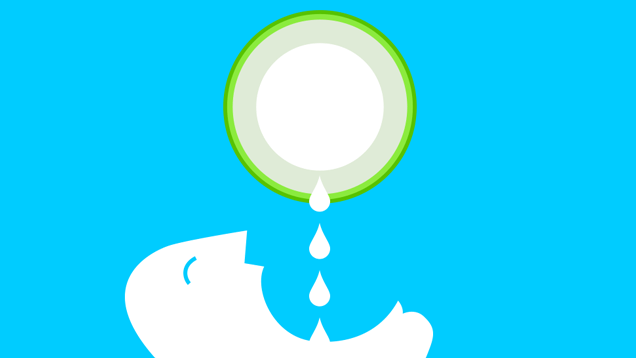 Coconut water is a delicious and healthy beverage, and it is good for you. If you drink it after going to yoga class or before a jog, you will be hydrated and receive nutritional benefits.
---