John Scalzi's science fiction novel Lock In predicts a near future where people with complete body paralysis can live meaningful, authentic lives thanks to (fictional) advances in brain-computer interfaces. A new study by researchers at Stanford Univ...
---
Chinese selfie app and smartphone company Meitu has unveiled its newest flagship, and it's all about making you look better. The T8 includes a front-facing camera with optical image stabilization and dual-pixel phase detection autofocus (PDAF) simila...
---
Uber's fleet of self-driving vehicles are now cruising the streets of Tempe, Arizona. After a spat with the California Department of Motor Vehicles in December, Uber moved its line of 16 custom, autonomous Volvo XC90 SUVs to Arizona, where Gov. Doug...
---
Twitter and Yahoo aren't the only ones interested in streaming live baseball beyond dedicated sports sites. Reuters sources claim that Facebook is in "advanced" talks with Major League Baseball about the possibility of livestreaming one game every w...
---
On Sunday, a former Uber engineer published details about the sexual harassment and rampant sexism that she claims she and other women experienced at the company. But despite reporting the incidents to HR on several occasions, Susan J. Fowler was rep...
---
There have been supposed peeks at Samsung's Galaxy S8 before, but always with the screen off. How is that near bezel-free design going to work, exactly? We might have a better idea. Photos have emerged that appear to show a functioning S8, includi...
---
Intel is already showing off the building blocks of its 5G hardware at MWC and the big carriers are rushing to upgrade to the new standard, but the chipmaking giant is also launching a new initiative to build more than just faster cellular network. A...
---
It's relatively easy to study animals' movement by plunking them on treadmills, but how do you do that with a creature as small and fragile as ants? Build a tiny custom treadmill, that's how. Scientists have crafted a contraption that let them study...
---
VTech's tablets and other kids' gadgets have always focused on creating a child-safe walled garden, but it's fallen far short of having an ecosystem like what children can get on an iPad or Amazon Fire Kids Edition. Its new Android tablet for childre...
---
Even though Apple and Foxconn vowed to improve factory worker conditions back in 2012, life is still pretty rough for the people building the gadgets we use every day. Complicit, a new documentary from Heather White and Lynn Zhang, hopes to shine a l...
---
The Conus regius' venom is bad news for its prey, and it's been proven harmful to humans as well. For instance, a 2009 clinical case describes a diver who had trouble moving his arm for 12 hours after an attack. However, scientists from the Universit...
---
Exoplanets, those that orbit stars beyond our own Sun are the most likely places that we'll discover extraterrestrial life. On Wednesday, February 22nd, NASA is planning to announce a "discovery beyond our solar system" at a press conference in Washi...
---
Editor for Breitbart News, Milo Yiannopoulos, announced that he is resigning his position at the news network effective immediately. The move comes amid a firestorm of criticism after a video recently surfaced in which he advocated for adults to be a...
---
Department of Homeland Security workers in Washington, DC ran into a massive headache when they came to work on Tuesday. Reuters sources say that staff were locked out of multiple networks starting around 5AM Eastern, possibly due to an issue with t...
---
Gaming laptops used to be an outlier in the world of portable computing. When the rest of the market was focused on extending battery life, gaming laptops doubled down on raw power and thick frames designed for better airflow. Trying to find a small...
---
Blizzard is legendary for supporting games well after they've left store shelves. Diablo II, for instance, got a patch last June, 16 years after the action RPG shipped. However, even a committed developer has its limits. The company has announced pla...
---
Tilt Brush, Google's virtual reality painting app, is available today on the Oculus Rift, complete with a few tweaks to make your 3D art take shape as naturally as possible. Tilt Brush landed on the HTC Vive in April 2016 and it's generated some awe-...
---
Drone-based deliveries are quickly moving out of the realm of science fiction. Amazon, 7-11 and a host of startups are already toying with the idea. Now, UPS, one of the biggest parcel delivery services on the planet, is testing a system that will dr...
---
It's that time of year, folks. Rumors of what the next iPhone will be like are coming in hot and heavy. Last week, well-connected Apple analyst Ming-Chi Kuo noted that the new handsets would nix the home button for a touch-friendly "function area." N...
---
We're still years away from a finalized 5G standard, and it'll be even longer before we get compatible devices in our hands, but we're seeing plenty of companies readying themselves for speedier networks. In particular, Qualcomm and Intel are hoping...
---
Not only do many of us tax the limits of our bandwidth and routers, but if you're in a crowded environment and scan networks, you'll often see a long list of neighboring ones all up in your space -- Bill Wi the Science Fi anyone? Portal has come up w...
---
The European Space Agency's XMM-Newton X-ray observatory discovered a pulsar that's a thousand times brighter than researchers had previously thought possible. Officially dubbed NGC 5907 X-1, the pulsar is 10 times brighter than the previous record h...
---
One of EE's biggest challenges is connecting rural customers. The UK network's 4G coverage is slowly improving, but there are still countless subscribers stuck in so-called "notspots." To help, EE is working on drones, balloons and trucks that can pr...
---
We've all labored over an Etch A Sketch at some point in our lives, painstakingly turning the two knobs to create a single-line black drawing on the gray screen. It's a classic toy that hasn't changed much over its sixty years of existence, because i...
---
Here's the dilemma with hydrogen: fueling your car with the stuff is faster than charging an EV, but making and distributing it is inefficient and polluting. A team from the Georgia Institute of Technology has created a four-stroke "engine" that conv...
---
Gizmodo The Gadgets Weblog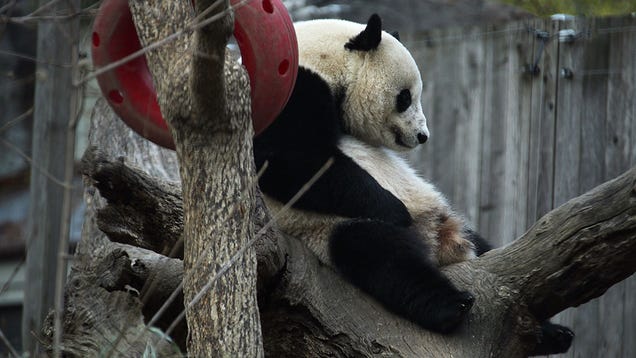 Bao Bao the giant panda is on her way to China today and National Zoo Director Dennis Kelly only has one thing on his mind: smokin' hot panda sex.

---
Jay Z is launching a new venture capital fund with the help of his longtime business partner and president of Roc Nation, Jay Brown, according to a new report from Axios.

---
Kotaku Twitch Streamer Dies During 24-Hour Marathon Stream | Jalopnik What's The Most Satisfying Car Revenge You've Ever Experienced? | Lifehacker Build and Mount Your Own Floating Shelves for About Seven Bucks | io9 Game of Thrones' Biggest Asshole Is the First Star of Marvel's Inhumans |
---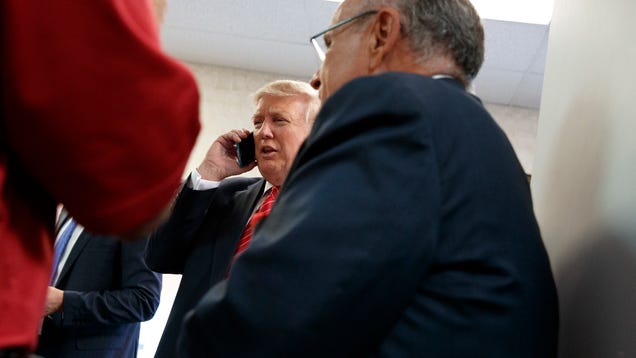 As recently as yesterday, President Trump sent a tweet using his old, unsecured Android phone. This happened just three days after Congressman Ted Lieu and 14 other House Democrats sent a letter to the Oversight Committee demanding an investigation into this blatantly bad security practice. Everybody agrees that it's…
---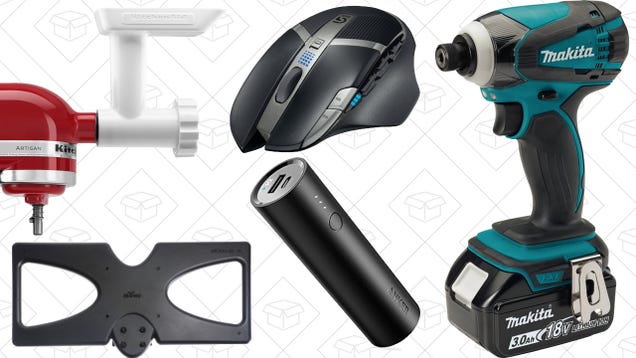 Anker charging gear, KitchenAid attachments, and Makita tools lead off Tuesday's best deals.
---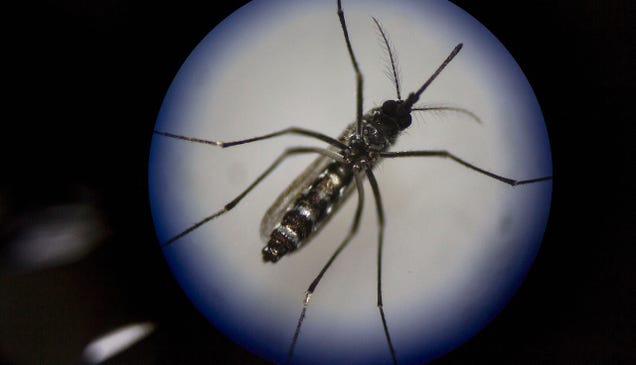 Today in science that turns out to be totally bunk: Citronella candles warding off mosquitoes. At least, the natural "repellant" doesn't seem to have any effect on one of the most notorious disease-spreading blood suckers on Earth.

---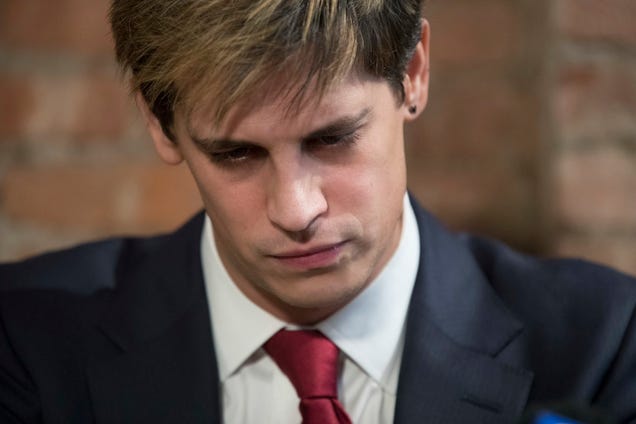 It's been a bad week to be Milo Yiannopoulos, whose Wikipedia page is about to include the word "former" in front of just about every personal achievement.

---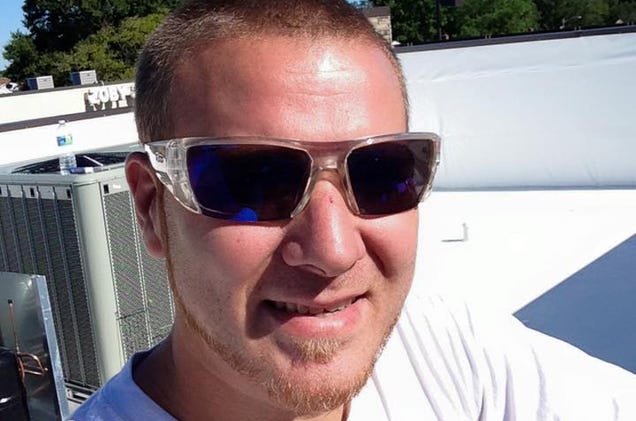 World of Tanks streamer Brian "Poshybrid" Vigneault died from unknown causes on February 19 after streaming for 22 hours. He was 35 and a father of three.

---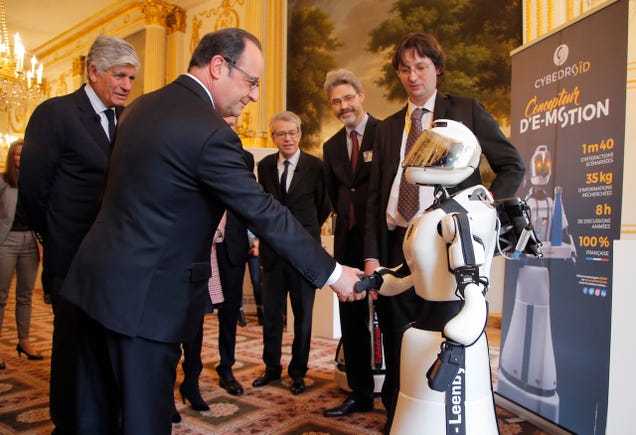 Today, the Associated Press captured a photo of French President Francois Hollande shaking hands with Leenby, a Cybedroid robot. Hollande, like so many politicians around the world, has been captured on film shaking hands with many robots over the years. And I used to think this was simply a way to appease our future…
---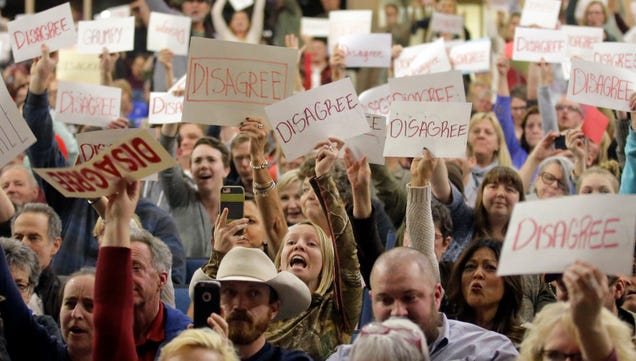 Town hall meetings are underway across the country this week as members of Congress return to their districts during the congressional recess. Well, sort of—only 19 Republican members of Congress are holding town hall meetings during the recess, and notably none of them are located in Utah, where Rep. Jason Chaffetz…
---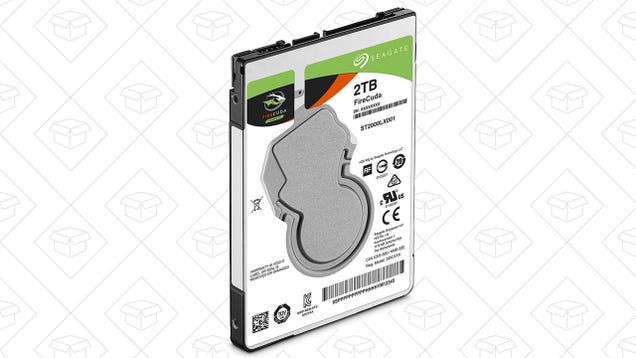 Seagate's FireCuda is one of the most popular PS4 replacement hard drives out there, mostly thanks to its built-in 8GB of flash storage that can sometimes speed up loading times, and you can get the 2TB model for an all-time low $95 today.

---
Have something you think we should know? You can email us tips at tipbox@gizmodo.com, write directly to any of our writers, or use our anonymous SecureDrop system.
---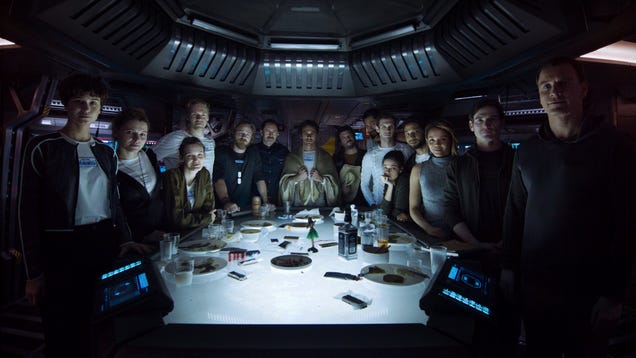 The first photo of the full Alien Covenant crew was revealed Tuesday, with the news that a teaser will be seen during Wednesday's episode of Legion. Which is great, but we wanted to break down this photo a bit more.
---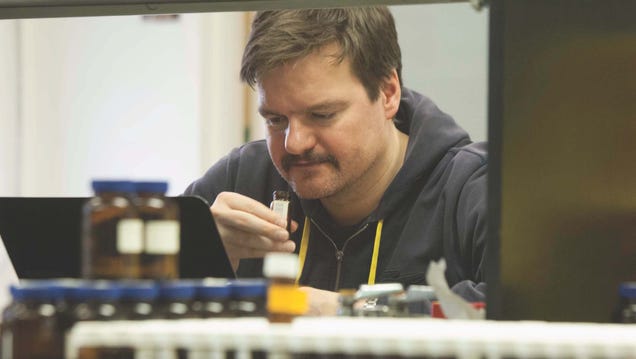 Whenever you say a color name, you're referring to specific properties of light waves. Sounds work the same way, but with properties of compression waves. But what about smell? With all of the different scented chemicals out there and their complex interactions, it's been impossible to create a simple scale to…
---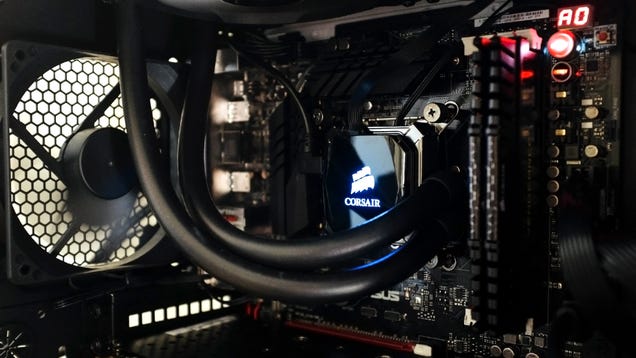 When you're buying a new gadget, you want the fastest, most powerful one you can get for your money. Benchmarks can help you figure out what devices have the most power, but sometimes they're just a distraction.

---
You know how Luke confronted Obi-Wan Kenobi for saying that Darth Vader killed his father when the truth was that Darth Vader was his father? And Obi-Wan says that everything he said was true "from a certain point of view"? Well, thanks to the newest Star Wars novel, that's not just a pile of bantha poodoo—it's part…
---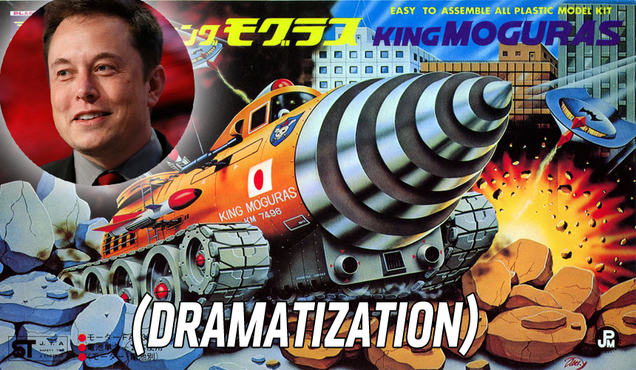 Tesla founder Elon Musk's fascination with building a tunnel under Los Angeles has captured the fawning attention of the tech press. Between boring profiles and inside looks at Elon's Tunnel, no one asked: Has this thing even received regulatory approval? Nope, says LA Weekly.

---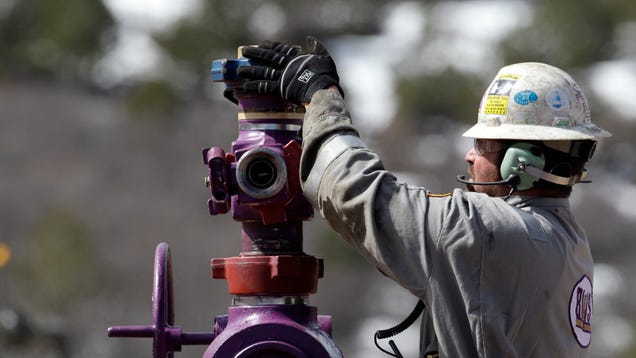 An alarming new study has identified 6,600 chemical spills related to hydraulic fracturing in just four US states over a ten year period. The finding shows that fracking is far messier than previously assumed, and that stricter safety measures need to be established and enforced.
---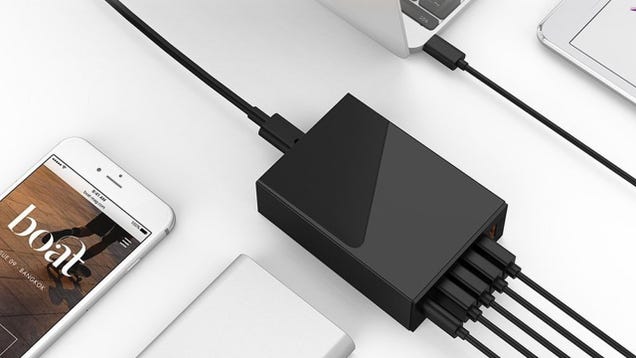 Your entire life is USB-powered, so it makes sense to outfit your nightstand and desk with multi-port chargers that can juice up your phone, tablet, smart watch, Kindle, and even laptop all at once.

---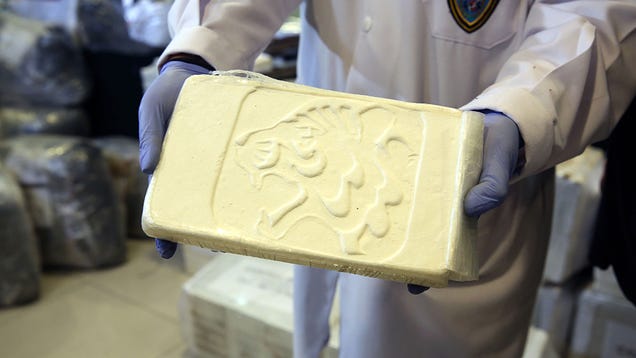 Cocaine, as they say, is a hell of a drug. It affects three of the neurotransmitters in our brains that make us feel fantastic—dopamine, serotonin, and norepinephrine—and tolerance for the stuff doesn't seem to dissipate even months after quitting. (It's also expensive and bad for you.) Today, new research published…
---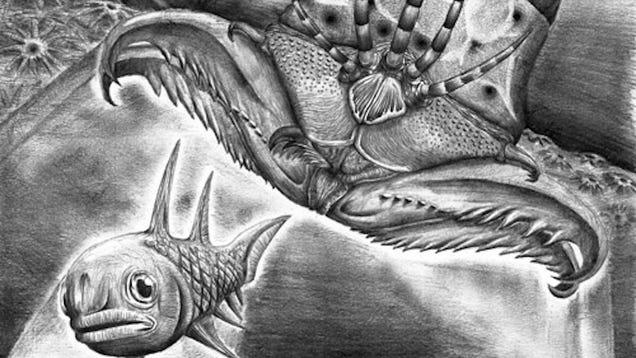 The past is often portrayed as a Pandora's Box of terrifying monsters. But while many paleontologists reject this stereotype, the scientists behind the newly-discovered marine worm Websteroprion armstrongi have decided to embrace it. It turns out this Palaeozoic prince of darkness, which roamed the seas roughly…
---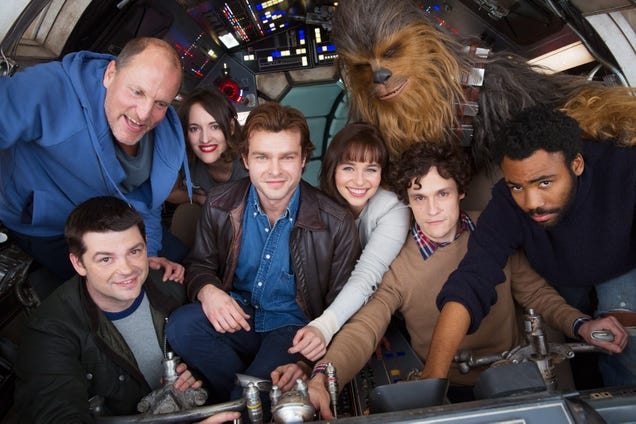 The first photo from the set of the still-untitled Han Solo film was posted Tuesday, and things are pretty cramped in the Millennium Falcon.
---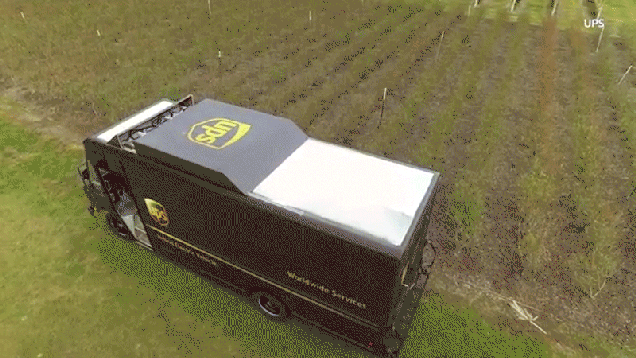 Everybody knows by now that the delivery drone ambitions of companies like FedEx and UPS amount to marketing stunts. But what happens when those stunts don't go quite as planned? UPS knows because it recently bungled a delivery drone demo in front of a bunch of reporters.
---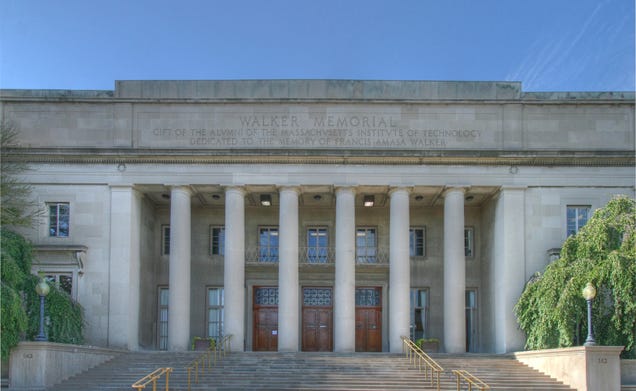 BOSTON—Days after the inauguration, many folks panicked on seeing immediate changes to government websites. Others worried that scientists would be forced to have their work reviewed by the government first. One of the biggest worries: What would happen to the potentially petabytes of data (spreadsheets enough to fill…
---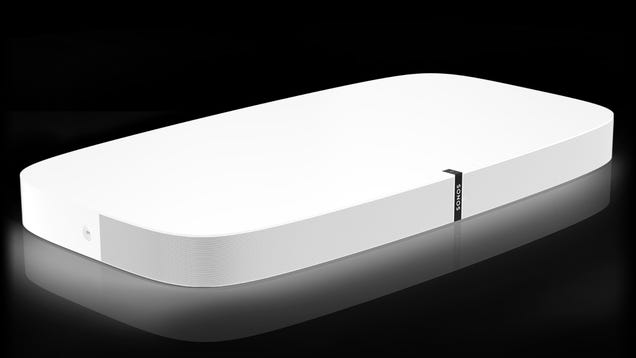 Sonos is getting ready to expand its home theater lineup, according to multiple leaks that surfaced in the past few days. Photos of a new Sonos product called the "PlayBase" speaker have been featured in a B&H Listing, several tweets, and FCC listing. Base speakers of this kind—which sit directly under a TV—have…
---