It's been some time since we heard from the Open webOS project, but work is still ongoing. The port has changed names in the last year to go by LuneOS, and the first release under the new name is now available. This particular version is called...
---
If you're anything like us, you've already made millions of dollars on Bitcoin. But how to keep it safe from loved ones, co-workers and other people we don't trust? Sound Wallet promises to keep your private access keys secure as encrypted audio,...
---
There are few things that scream class more loudly than coating a piece of consumer electronics in gold. Except, perhaps, for doing the same thing, but with Swarovski crystals. That's the truth-bomb that LG has just deposited into our laps, having...
---
Apparently, the world needs another smart lightbulb, and Elgato's going to sell it to you. Called Avea, the $50 bulb connects to your iDevice directly using Bluetooth (no external hub needed), and lets you set the mood in any room with an appropriate...
---
It's time. This week NFL football is back (and so are the Engadget HD Podcast fantasy leagues), and the season kicks off Thursday night as the Packers face the defending Super Bowl Champion Seahawks on NBC. Boardwalk Empire on HBO starts its final...
---
Apple is such an opaque company that even app developers can be left, out in the cold, wondering why their app was rejected from the app store. Thankfully, the company does have some sympathy for those dejected coders, which is why it's published a...
---
Not everyone is interested in paying for premium handsets, and Google knows that in many parts of the world, shelling out five or six hundred dollars for a One, G3 or Galaxy S5 simply isn't an option. The Android One initiative is how Google plans to...
---
When it comes to choosing which new TV shows to make, British broadcaster UKTV is taking a leaf out of Amazon and the BBC's playbook. The company behind Dave, Really and Watch will produce pilot episodes of shows, asking users of its UKTV Play...
---
NASA's ironman Mars rover Opportunity, like your five-year-old PC, is about to get reformatted. Problems have been causing the aging vehicle to reboot and scientists suspect that worn-out cells in the flash memory are to blame. Opportunity's been...
---
When a piracy site is targeted by authorities, the owner's usual trick is to move the website to another domain (and sometimes hosting provider) to re-establish access for users. The Pirate Bay is probably the biggest example of this, which has spent...
---
If WiFi can track a heartbeat through walls, why can't I get internet in my corner bathroom? Jason Cole was trying to figure that out too, but unlike me, he's a PhD student in physics. So he mapped his own apartment and assigned refraction values to...
---
Dixons Carphone is only (officially) a month old, but it's already dealt a huge blow to one of its rivals. In its battle to provide UK consumers with the best value smartphone deals, the newly-formed company today announced that it's signed an...
---
Twitch was an accident. The live video-streaming service, which boasts over 55 million unique users each month, began life in 2007 as "Justin.tv": an all-hours video livestream of co-founder Justin Kan's life. That wasn't the whole point of the...
---
Ask professors about important physics lectures, and they'll probably point you toward Richard Feynman's famous 1964 talks. They led to one of the most popular physics books ever (over 1.5 million English copies sold) and helped generations...
---
Facebook's 2012 experiment, while controversial, showed that what other people post on social media can alter moods. Apparently, though, that's not the only thing Facebook, Twitter, Instagram and others of their ilk can do: according to a study by...
---
Sony's Cyber-shot RX10 is a pretty capable camera, but it still has weaknesses: it doesn't shoot super high-quality XAVC-S video, and that steep $1,300 price is bound to steer some people toward DSLRs and mirrorless cams. Well, consider both of those...
---
​We don't need to rake over the gory details here, but in the last 12 hours, the internet has lost its "you know what" over some leaked celebrity photos. Initial reports suggested that hackers targeted the iCloud accounts of the high-profile...
---
Teasing its forthcoming appearance at the Tokyo Game Show later this month, Sony Computer Entertainment Japan revealed a new demo for its prototype VR hardware -- with assistance from the creative forces behind the Tekken fighter series. You should...
---
Let's face it: with certain exceptions, most sculptures are pretty static and won't hold your interest for more than a brief glance. You may pay more notice to Hypersonic's Breaking Wave project, however. Effectively, it's a "programmed" analog...
---
If you're a fan of PlayStation 4 game livestreaming, Sony's about to have a PS Vita app for that. At a prelude to the Tokyo Game Show (TGS), it announced updates that will let you view live PS4 game action directly from a PS Vita. There are also...
---
How does a famous-rapper-slash-business-tycoon and a tech titan launch a collaborative project? Apparently, by throwing a fancy soirée graced by the presence of a robotic Picasso. In honor of Intel's and SMS Audio's (a company founded by 50 Cent)...
---
We've heard music made from bats' echolocation signals and the sounds of glaciers before, but what about tunes composed with something a little more, say, industrial? And no, we aren't talking about Nine Inch Nails' classic The Downward Spiral. Think...
---
Fitbit is one of the most well respected names in the quantified-self space, so we expected a lot of the Fitbit Flex. When we put the device in front of Terrence O'Brien, he found that it wasn't the most feature-packed, or the flashiest, but...
---
This week, we reviewed the HTC One for Windows, investigated Amazon's controversial e-book-pricing model, played around with Hyperlapse, learned about LG's G Watch R and more! Read on for Engadget's news highlights from the last seven days. Oh, and...
---
Let's say you bought a pricey curved TV, only to remember that your existing soundbar is (gasp!) flat. Will you have to live with that geometry mismatch for the life of your set? Not if Samsung has its way. It just unveiled the Curved Soundbar, which...
---
Gizmodo The Gadgets Weblog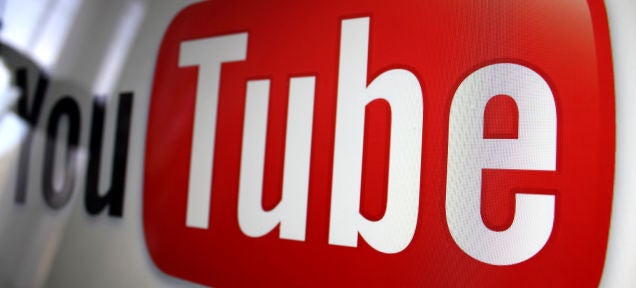 Very, very few YouTube video creators make any real money off of those pre-roll ads, but that might soon change. Google has launched Fan Funding, a new way to tip your favorite YouTube stars directly from the video.
---
Remember Android One? It's Google's program to get manufacturers to develop high-quality, low-cost (less than $100) smartphones running stock versions of Android for developing countries. These devices, which will be regularly updated just like the Nexus line, now look like they're round the corner.
---
Looks like Microsoft has removed the 2GB size limit for uploading files to OneDrive. You can now upload files of pretty much any size. "It's an old limit that we've been working to remove for a long time now," a Microsoft manager told The Next Web. Good for us. [The Next Web]
---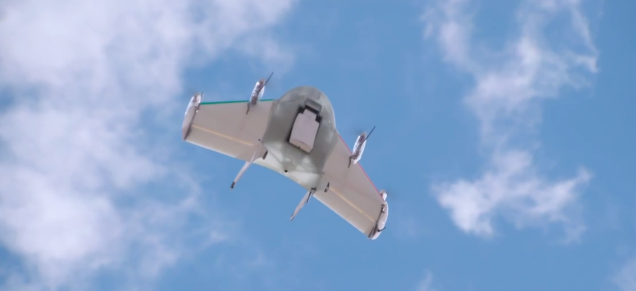 NASA is not down with drones flying around town all willy-nilly and potentially electrocuting North West. The space agency is developing an air traffic control network near Moffat Field, California for unmanned aircrafts at 400 to 500 feet meant to put regulations in place.
---
Security researcher Brian Krebs gets sent some pretty weird stuff from fans. His latest in bizarre snail mail booty: A packet full of fake cash.
---
BoJack Horseman, the latest Netflix original series, is a good show. Unlike Netflix breakouts like Orange is the New Black and House of Cards, it's not getting a ton of attention... but it deserves a wide viewership, or at least as wide a viewership a droll adult animated comedy can get. The cast is dynamite. Will Arnett plays the titular jaded, anthropomorphized steed, while Allison Brie, Aaron Paul, and perfect human Amy Sedaris all contribute stellar turns as Bojack's biographer, friend, and agent.
---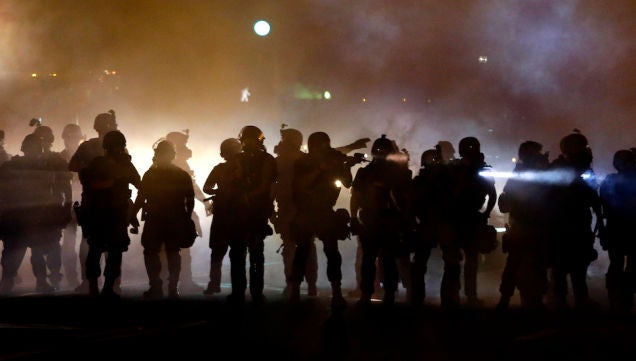 Police in Ferguson, Mo., started wearing body cameras this Saturday during the most recent protest following the killing of unarmed teenager Michael Brown Jr. by one of the city's police officers, Darren Wilson.
---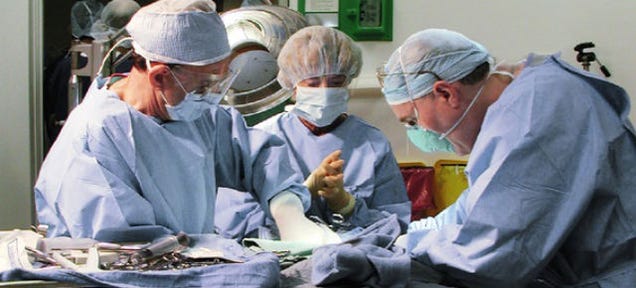 Death is unfathomable and terrifying. We try to stave it off with vitamins, checkups, and exercise, to diminish the awful permanence with beliefs in afterlives and miracles. For some people, that's not enough. There will be no accepting mortality for believers in cryonics, the process of preserving human bodies at low temperatures with hopes of one day reviving them.
---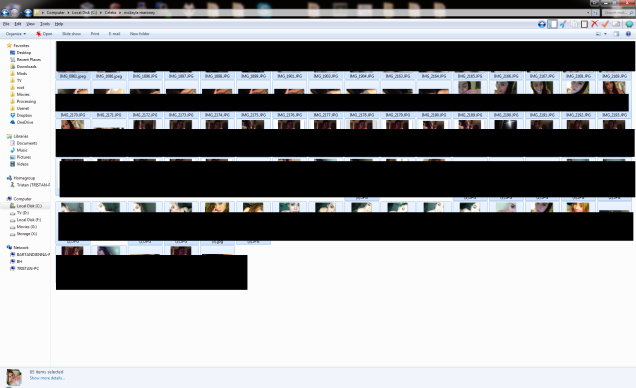 Apple is investigating several iCloud account violations that may have resulted in hackers spreading leaked photos of naked female celebrities online.
---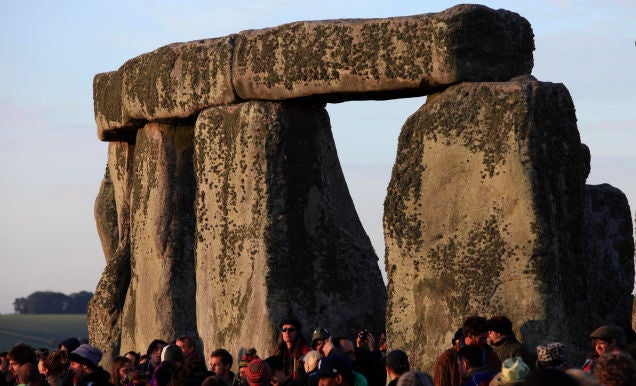 One of the mysteries of Stonehenge has been solved because someone was too lazy to get a longer hose.
---
If you've ever wondered how it's possible to make decaf coffee—which you can buy in whole-bean form—when the caffeine is inside the damn bean, then you're not alone. Fortunately, there is an answer, and it's in this video.
---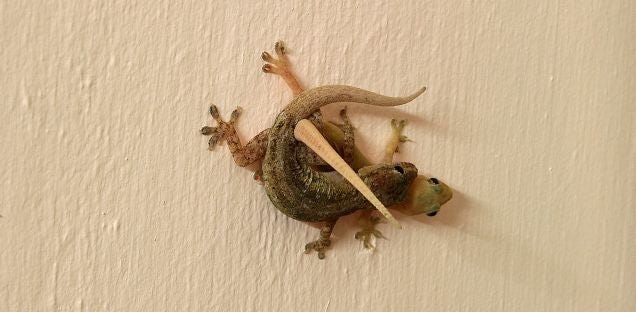 I hope you're sitting down on a piece of comfortable patio furniture this Labor Day, for I have tidings of great sorrow: the Russian space sex lizards have died.
---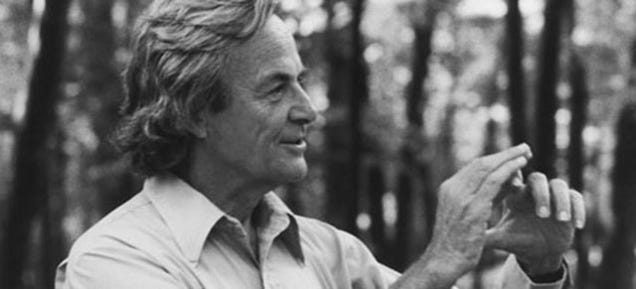 In 1964, Richard Feynman gave a series of seven, hour-long lectures at Cornell University that have gone down in history as a wonderfully accessible introduction to physics. Now, you can read them online for free.
---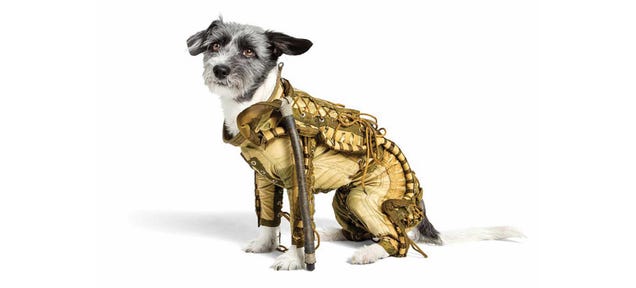 Is your dog made of tough stuff? Is it calm under pressure? Is it smart, patient and loyal? Then maybe it would make a great space dog—and if so this is just the outfit for your precocious pooch.
---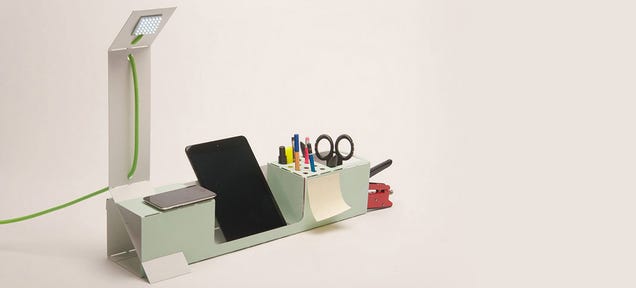 This neat, angular desk tidy is truly 3D—but it hasn't always been that way. In fact, it's put together from a 0.8mm-thick carbon steel, laser-cut beforehand to make it easy to fold into shape.
---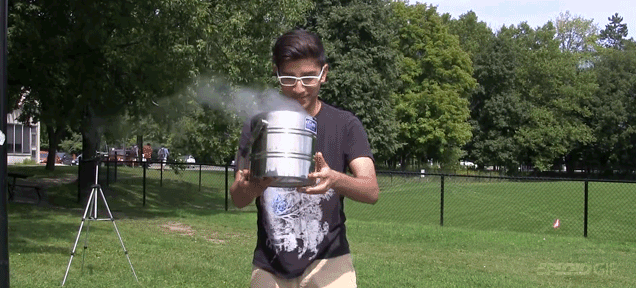 Moe Qureshi—a chemist at the University of Toronto—gave his ALS bucket challenge a shocking twist when he decided to use liquid nitrogen instead of ice. I would be terrified just by the thought of pouring liquid over my head at -321°F (-196ºC), but Moe survived the challenge unscathed—thanks to science.
---
We knew that Asus was working on an Android Wear smartwatch, and now we have some details. According to China's Central News Agency, the ZenWatch will be announced on Wednesday and sell for less than $200.
---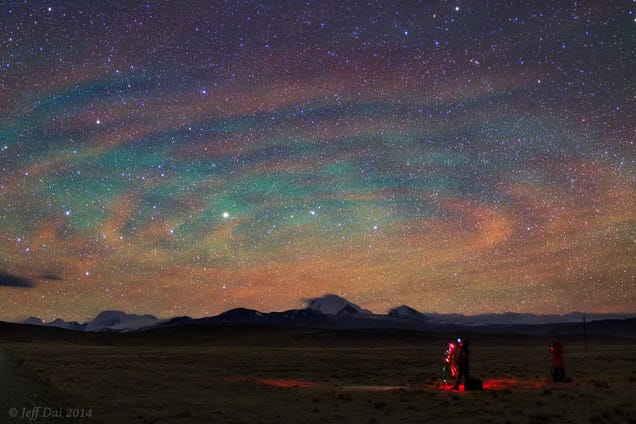 Today's Astronomy Picture of the Day, brought to you by NASA and photographer Jeff Dai, is simply breathtaking: vivid, majestic, otherworldly.
---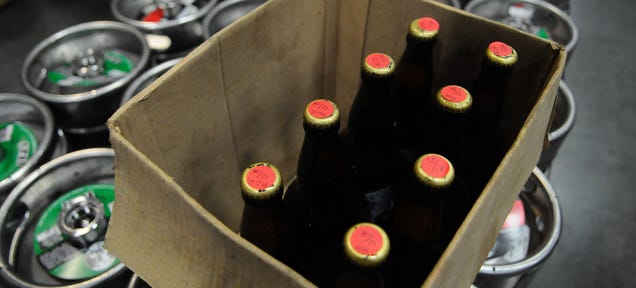 Plastic as a material has pretty much changed the way we live our lives- it's cheap, can be moulded into practically any shape and is, for the most the part, easily recyclable (when people bother to). So why is it that we still use glass bottles and cans to store our beer in? Is it to do with aesthetics? Taste? Or is there another factor at play?
---
What separates a social network from a messaging application? The EU is about to find out, having sent a 70-page long questionnaire to competitors and customers of Facebook to work out if its WhatsApp purchase is legit in terms of competition law.
---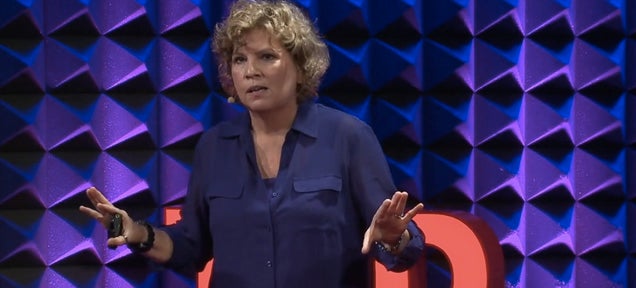 How many times did you use the word awesome today? Five, ten, fifteen times? We use the word awesome so often and, most of the time, so incorrectly that the term has lost its original sense— maybe forever. Comedian Jill Shargaa explains why in this hilarious TED talk.
---
It's not like we need any more reminders about how creepy Google Glass can be, but developers never stop surprising us. An new app from Germany's Fraunhofer Institute that uses facial tracking, proprietary tools and Glass, can measure human emotions. In real time.
---
Sony's really rather great Rx10 just got better: it now only costs $1,000 (down by $300), and a firmware update means it shoots shoot super high-quality XAVC-S video, too.
---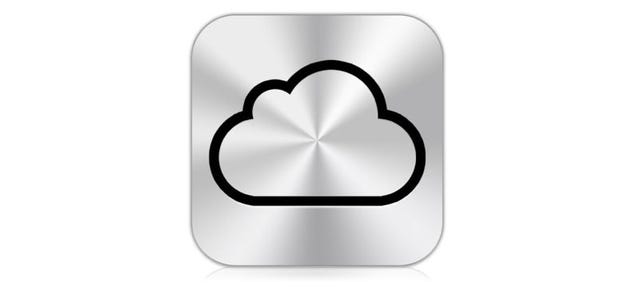 Over the weekend, there's been a slew of images released showing celebrities in varying states of undress . Now, it appears that a flaw in iCloud could be responsible for the images making their way online.
---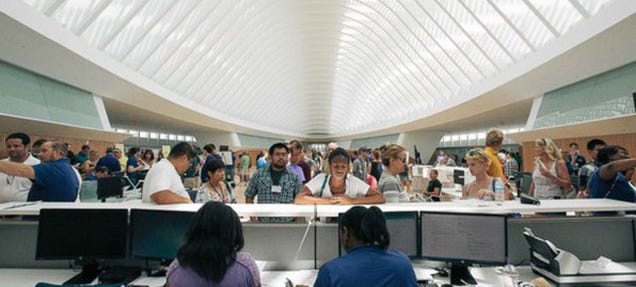 You're looking into Florida Polytechnic University's new library. Light, bright, beautiful curves and... there's not a single book on its shelves?
---